OCCA Lunch & Learn Webinars
Join OCCA for monthly professional development webinars during 2023-24 to learn about issues important to community college board members and leaders. Register for one or all seven! *Please note that each webinar has a separate registration link due to system limitations.
These hour-long webinars will take place the last Thursday of each month at noon PST. There is no registration cost to attend these training sessions for OCCA members as they are included as a member benefit.

Take a Seat:
Chair/Vice Chair Training
Elevate your leadership skills! Join us for a training designed for current and aspiring Chairpersons and Vice Chairs. Gain insights and tools to effectively guide your institution towards educational excellence and student success.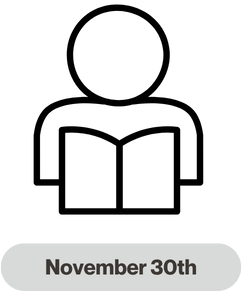 Bringing Back
Adult Learners
Come learn about the "Bringing Back Adult Learners" initiative – a transformative project in collaboration with Oregon's community colleges. Discover how your college can re-engage these learners.
2024 Legislative
Priorities & Advocacy Prep
Learn about OCCA's strategic legislative priorities and equip yourself with the essential advocacy skills to make a meaningful impact for students across Oregon.
Local Budget
Law Basics
Discover the key insights into local budget laws and gain a deeper understanding of budget regulations, ensuring your institution's financial success and commitment to educational excellence.
Student Success Spotlight: Corequisites
Dive into the innovative corequisite work and get equipped with the knowledge and tools needed to support its successful implementation.
Funding 101: How Community
Colleges are Funded
Discover the intricacies of community college funding in Oregon. Gain insights into the financial mechanisms that sustain the institutions: state funding, property taxes, and student tuition and fees.
Dive
into DEI
Discover the power of diversity, equity, and inclusion. Join us as we delve into a thoughtfully selected topic by OCCA's DEI Committee, empowering you to create more inclusive and equitable educational environments for all.