Let's Help Our Students Graduate On Time and With Less Debt
How do we ensure that our school is truly accessible to diverse students and all students are set up for college success?
One effective way is to offer corequisite math courses in the first year of college. Corequisites are an alternative to traditional developmental education that have been shown to increase pass rates and improve equitable outcomes. Research shows they help college students graduate on time and with less debt.
Around the country, corequisites work.
Corequisite math has been shown to help all students, and is particularly supportive for students who have been underserved by our educational system. This includes students of color and economically disadvantaged students, who are placed in remedial prerequisites at disproportionately high rates. We can employ this approach to serve our students in Oregon as well.
Corequisites – A Better Alternative To Traditional Remediation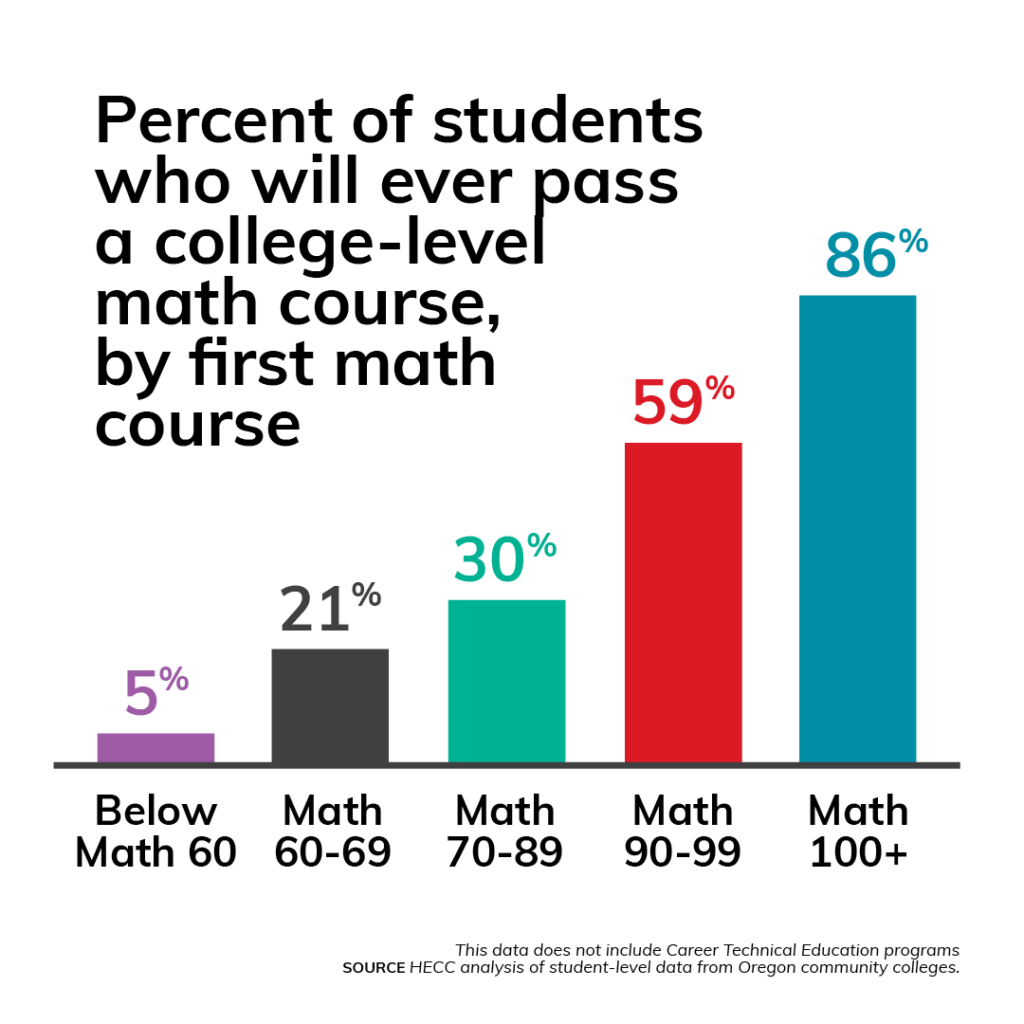 Currently many students—including a disproportionate number of historically underserved populations—are placed in developmental math, which is characterized by low pass rates and low persistence rates. When students are placed into these remedial prerequisites, it can prevent them from building the momentum they need to earn their credential. These students are more likely to rack up debt taking multiple terms of prerequisites and drop out.
Prerequisites are one of many systemic barriers that particularly impact those who have already been marginalized by our education system, including students who are:
Black
Indigenous
People of color
Immigrants
Migrants
From rural areas
Experiencing poverty
The data shows more students succeed with supports from corequisites.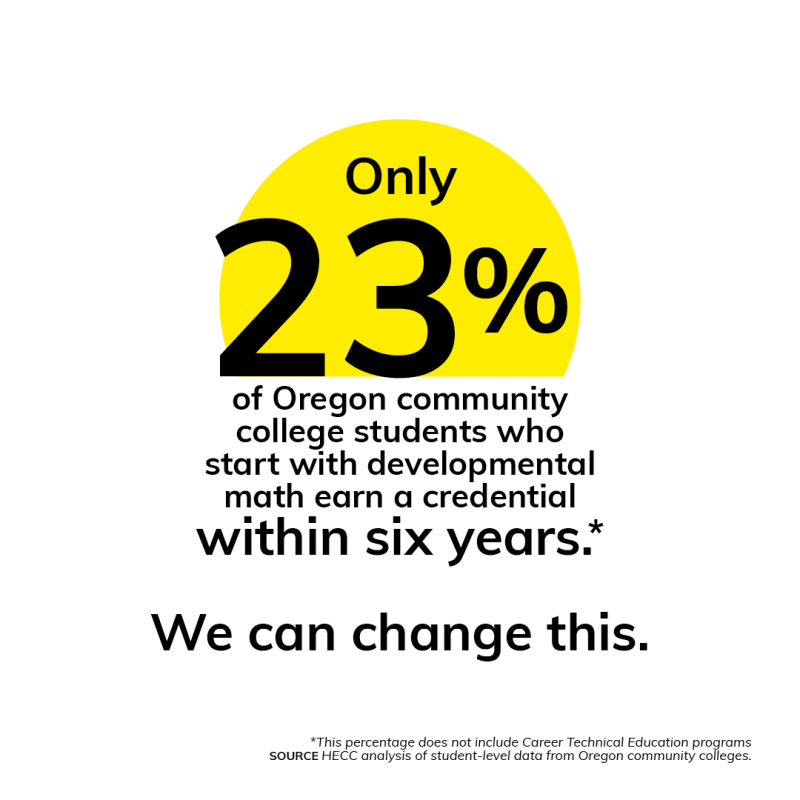 How do corequisites work?
Corequisite math offers an effective alternative to unnecessary systemic barriers such as developmental math. Students are placed in college-level math upon entering community college or university, while also getting extra support to learn and understand the curriculum. The corequisite course provides background knowledge, reviews material, and previews upcoming topics.
This strategy builds on Oregon's existing student success efforts, such as Guided Pathways and Math Pathways, and has been shown to increase pass rates. For faculty, administrators, and advisors who have been immersed in that work, this is not something totally new, it's a logical next step in student-focused practices.
Let's work together to offer students more effective opportunities to a strong start.
We know that when students do well in school, it has a ripple effect throughout entire communities. Our students can achieve more. By implementing corequisite math, we can provide them with equitable support to achieve their academic goals.
Resources For Implementing Corequisite Math
We understand that faculty and advisors have a lot on their plates and implementing a new strategy takes work and planning. To help make implementation as simple and effective as possible, we have created and compiled resources, and are holding regular conversations to share learnings.
Past Webinar Materials (Cohort I)
Corequisite Math Pedagogy 101
Curriculum Planning for "Just in Time Support"
Active Learning Techniques in Math
Check out our toolkit.
Our Strong Start Oregon toolkit includes materials, resources, and message boards — all designed to help you implement and talk about corequisite math.
Visit the toolkit in Basecamp (Login required. Need access? Contact Oregon Student Success Center Director Elizabeth Cox Brand, elizabeth@occa17.com).
Peer Support
Message with fellow faculty and advisors from other community colleges and universities to troubleshoot problems and share successes. Plus, access resources from other states and institutions to help build your program or lesson plan. Check it out in Basecamp.
Messaging and Content
Need to communicate about corequisite math? We've developed messaging, data visualization, and content for you to share on your website, social media, e-newsletters, and wherever else. Check it out in Basecamp.
Data and Research
We've compiled the research that tells the story of why corequisites work. Dig deep into the reports and find compelling data. Dig deeper in Basecamp.